Waterstone ENGAGE™
Measure engagement. Align culture. Drive performance.
Regularly measuring and assessing employee engagement and corporate culture is an essential part of supporting healthy organizational performance – and Waterstone can help.
Waterstone ENGAGE™ is an annual employee survey program that will equip you with actionable data about both your corporate culture, employee engagement and as well as the level of trust in your organization.
The program includes actionable recommendations on where you can achieve the greatest impact as it relates to culture and engagement. We work with you to create a customized action plan and provide ongoing measurement and consulting support to help drive your performance.
ENGAGE™ subscriptions include culture and engagement trend reports, human capital templates, event discounts, valuable learning content, and more.
Process
Cultural Assessments
We start with one-on-one cultural assessments to gather qualitative feedback and help customize your survey.
Quantitative Surveys
We launch the ENGAGE™ survey to all of your employees. This provides rich data on your current culture, employee engagement, and level of trust.
Customized Report
A customized report give you insight into your current culture and provides recommendations against areas of strength and opportunity.
Coaching and Planning
Waterstone acts as your high performance culture coach, building a plan and supporting your rollout of any recommendations throughout the year.
Pulse Surveys
We'll work with you to execute three pulse check surveys to help assess your progress.
Re-assessment
We recommend repeating the ENGAGE™ survey every 12-18 months to help gauge your progress toward your ideal culture and pinpoint other areas of need/opportunity.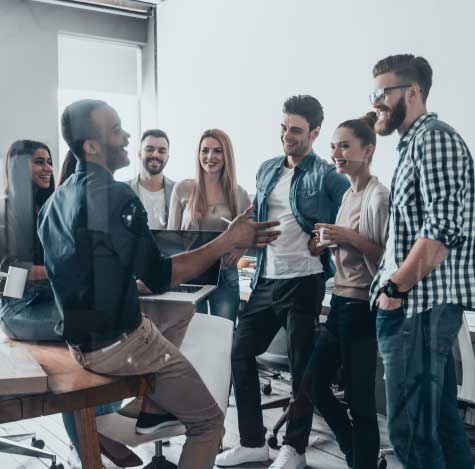 Test Your Culture
We've developed a shortened version of the Waterstone ENGAGE™ survey so you can go through an example yourself. Although this is not the full survey, it will give you an idea of the output of the survey. The real value of the assessment comes from the practical actions and recommendations our team provides.
Contact Waterstone Today
Looking for a job? Resumes cannot be submitted using this form. Candidates can submit your resume or job inquiry here or visit our Careers page.