Life at Waterstone
Founded in 2003, Waterstone Human Capital is a leading cultural talent management professional services firm for organizations across North America that see culture as their single greatest asset.
Why Choose Waterstone
Our Purpose
We exist to inspire organizations to build high performance teams and cultures.
Our Impact
Drawing upon our expertise, we have consistently excelled in securing placements for C-suite senior executives, leveraging our extensive network and industry insights to connect top talent with North America's foremost organizations.
Growth Opportunities
At Waterstone, we are dedicated to nurturing talent and fostering growth. Our comprehensive programs and mentorship opportunities empower employees for long-term success, ensuring a fulfilling career journey.
Diverse and Inclusive Environment
We champion diversity, equity, inclusion and belonging as fundamental pillars of our culture. We cultivate an environment where every voice is valued, ensuring equal opportunities for all.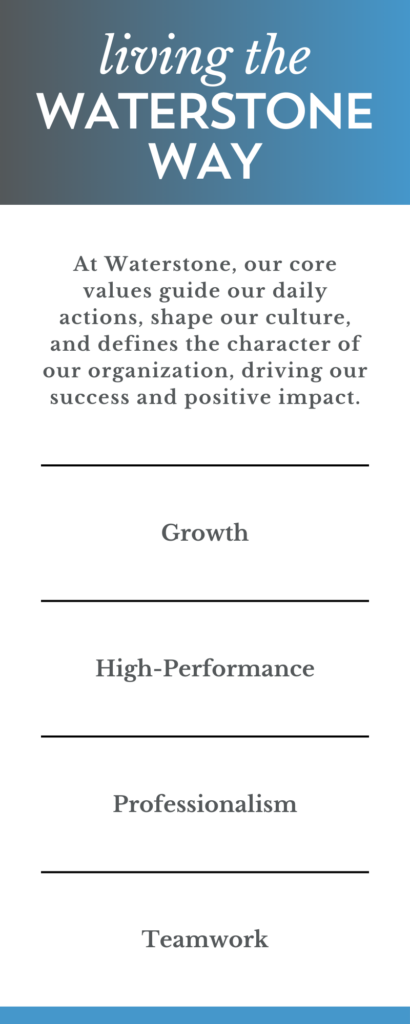 Hear From Our Team
Marty Parker
President and CEO
Jeff Knisley
Managing Director and Senior Partner
Employee Value Proposition (EVP)
What Sets Us Apart
At Waterstone, we stand out by providing an unparalleled employee experience. From personalized professional development plans to exclusive networking events, our unique offerings empower our team members to thrive and make a meaningful impact in the executive recruitment industry.
Career Growth and Development
We believe in continuous learning and growth. Through mentorship programs, access to cutting-edge industry insights, and tailored skill-building initiatives, Waterstone provides a clear path for employees to advance their careers and achieve their professional goals.
Work-Life Balance
We understand the importance of a balanced life. At Waterstone, we prioritize the well-being of our employees, offering flexible work arrangements, and a supportive work culture that allows individuals to excel in their careers while enjoying a fulfilling personal life.
Compensation and Benefits
Waterstone is committed to recognizing and rewarding excellence. Our competitive compensation packages, including performance-based incentives, are complemented by a comprehensive benefits package that includes health, dental, retirement plans, and other perks, ensuring our employees are well taken care of both in and out of the workplace.
Explore Our Roles
Embark on a rewarding journey with Waterstone. Explore our available positions and seize the opportunity to be a part of a dynamic team.
Your Path Forward:
View Current Openings: Visit our current vacancies page to identify positions that might be a good fit for your skills and interests.
Polish Your Profile: Make sure your LinkedIn profile is up-to-date to help boost your job search efforts.
Stay Connected: Follow our LinkedIn page for upcoming openings.
Get In Touch
Have questions or want to learn more about opportunities at Waterstone? We're here to help! Reach out to us through the contact form button below. We look forward to connecting with you!