Waterstone Insights Pulse Survey 3: Crisis and culture change
How extraordinary circumstances have accelerated change for many Canadian organizations
By Carl Kaufman
For the past three months COVID-19 has had an incredible impact on how and where we work. Many of us transitioned almost overnight into remote work situations, often with less than ideal tools, facilities and/or work environments. Compound this with the isolation created by physical distancing measures and you had an environment with the potential to be devastating to an organization's corporate culture.
For those workers on the front line and delivering essential services the situation was different. There were safety protocols that needed to be implemented, the risk of contracting the virus which needed to be managed and mitigated, increased work loads, and stress levels that were significantly intensified. A different set of circumstances, but again, with the potential to be devastating to corporate culture.
As the leaders in corporate culture services, Waterstone has been keeping a close eye on how COVID-19 and the actions taken by governments and companies have impacted corporate culture. We'd done this through an ongoing series of pulse surveys, the most recent of which asked over 2,000 corporate leaders in Canada "Has your corporate culture changed as a result for the COVID-19 situation?"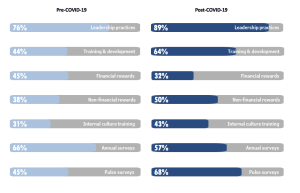 While just over half of respondents (51.7 per cent) said that their culture is holding steady, 48.3 per cent of respondents said they had seen a change in their corporate culture over the past three months. What was both interesting and encouraging was that of the respondents who said their culture had changed, two thirds said their culture had changed for the better, citing reasons such as "increased appreciation for one another. More collaboration. Focused meetings" and "while we are distanced we seem to have come together differently". Having a strong culture was also seen as a benefit in helping companies navigate the uncertainly and change. "Going into this pandemic having a strong corporate culture has allowed us to all to come together in a relatively short period of time and forge a path through these times as well as prepare for our future post-COVID-19."
Along with a changing culture, respondents indicated a marked shift in some of the tools and strategies they will use post-COVID-19 to align and measure culture within their organizations, compared to the tools and strategies in use pre-pandemic.
We saw a marked change in the intent to use leadership practices (leading by example) to align corporate culture – from 75.8 per cent pre-COVID-19 to 89.3 per cent post-pandemic. This highlights the importance of leadership behaviour as a culture driver, and the impact it ultimately has on the success of an organisation.
Companies are planning to reduce their dependence on comprehensive annual culture measurement surveys and implement more frequent pulse surveys with the planned use of annual surveys reducing by eight points (from 65 per cent to 57 per cent) and the use of pulse surveys jumping 23 points (from 45 per cent to 68 per cent).
Organizations are looking to revamp their employee rewards programs, shifting away from financial rewards (down to 32 per cent from 44 per cent) and increasing their focus on non-financial rewards (up from 38 per cent to 50 per cent).
Training and development is increasing in importance in the post-COVID-19 workplace, moving 20 points with 64 per cent of respondents planning to lean into training in the coming months, compared to 44 per cent who used this tool pre-pandemic; internal culture training also appeared as a key focus area in the post-COVID-19 world, increasing from 31 per cent to 43 per cent.
Culture changes over time, crisis and other events outside of our control can speed up and amplify those changes dramatically – but organizations with a strong culture are often better able to deal with the turmoil and challenges thrown at them during exceptional times, and in facing those challenges enhance their culture. It's just one more reason why it is so important to measure and monitor the culture in your organization frequently and use as many tools as possible to ensure the culture you want to create thrives.