Become a Senior Partner at Waterstone
The Senior Partner Role
Are you a seasoned sales professional with a passion for business development? Join our team as a Senior Partner and play a pivotal role in driving growth for both our clients and Waterstone.
Business Development Experts
Leverage your business development passion to navigate client relationships, shape innovative strategies, and play a pivotal role in propelling collective success within a dynamic and rewarding career at our organization
Responsibilities
Cultivate and maintain relationships with key industry leaders.
Identify and pursue new business opportunities.
Provide strategic guidance to clients in talent acquisition and corporate culture development.
Hear from Jeff Knisley
Managing Director and Senior Partner
Senior Partner Locations and Areas of Focus
We are building a team of 10 Senior Partners located across North America, with a focus on finding talent with expertise in the following sectors and industries:
Florida
Texas
Nevada
Tennessee
Arizona
Georgia
North Carolina
Washington, DC
Virginia
Maryland
Calgary
Toronto
Why Choose Waterstone
Founded in 2003, Waterstone Human Capital is a leading cultural talent management professional services firm for organizations across North America that see culture as their single greatest asset.
We specialize in executive search and corporate culture consulting. With a track record of success, we help organizations find top-tier talent and build high-performance teams and cultures.
Our Purpose
We exist to inspire organizations to build high performance teams and cultures.
Our Impact
Drawing upon our expertise, we have consistently excelled in securing placements for C-suite senior executives, leveraging our extensive network and industry insights to connect top talent with North America's foremost organizations.
Growth Opportunities
At Waterstone, we are dedicated to nurturing talent and fostering growth. Our comprehensive programs and mentorship opportunities empower employees for long-term success, ensuring a fulfilling career journey.
Diverse and Inclusive Environment
We champion diversity, equity, inclusion and belonging as fundamental pillars of our culture. We cultivate an environment where every voice is valued, ensuring equal opportunities for all.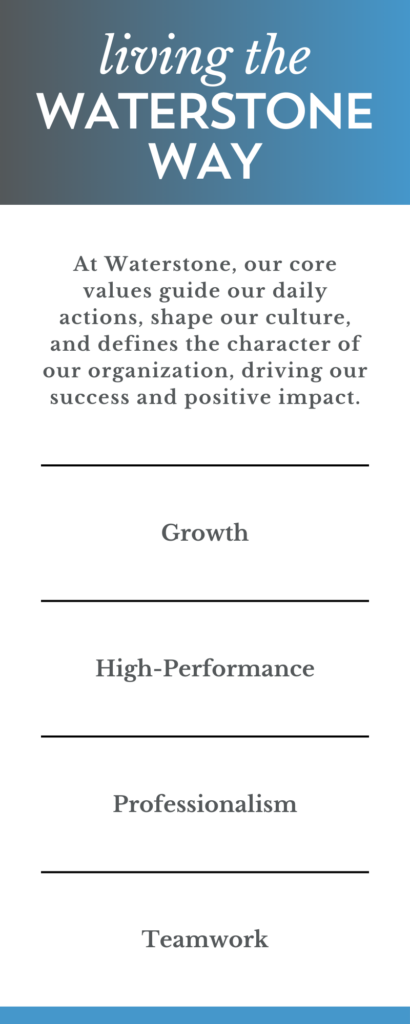 Join Our Team
Apply to be a Senior Partner at Waterstone and become a crucial part of our dynamic and innovative team.
For more information, and/or to apply, contact Jeff Knisley, Managing Director and Senior Partner, below: