How Leading Companies Are Elevating Culture in Today's Workplace
The ongoing discussion around the record-breaking number of employees leaving their jobs over the past year has only grown, and The Great Resignation, quiet quitting, the great realignment and more are at the forefront of C-suite discussions across the country. Experts believe this event is rooted in collective disillusionment with both the jobs and the existing work culture of the companies people are leaving, regardless of the sector or industry. Improving technologies, shifting social norms, a growing focus on purpose and social responsibility, and the pandemic have all contributed to massive changes in the way people perceive and approach work, and these changes aren't going away any time soon.
These initiatives resonate with both consumers and employees, so much so that industry leaders like Salesforce and Lego are changing their approaches to recruitment and retention to highlight a culture of purpose as part of their brands. These changes affect every corner of an organization, but have also facilitated some significant changes to the role of the Chief People Officer (CPO) and to the whole people and culture team.
This changing landscape demands that leaders develop an approach that continues to focus on the people aspect of the CPO role while incorporating a focus on improving feedback mechanisms and fostering genuine change that is meaningful to employees at every level.
Acquiring the Tools and Data
While many organizations have good intentions when they say that culture is important to them, it takes more than a general understanding and surface-level dedication to make a high-performance culture a reality. As a first step, organizations need to understand their current culture and have a clear picture of what their ideal future-state culture looks like.

At Waterstone, we use the Culturepreneur Operating System to help clients measure, assess, craft, and transform their culture to help drive performance. And clients that have committed to workplace culture change and making culture their competitive advantage have seen incredible results:
more than doubled their revenue;
quadrupled their EBITA CAGR (from 3% to 13%);
increased their revenue CAGR (+5%);
improved their eNPS year over year; and
strengthened their recruitment and engagement.
Data has always been vital for people and culture teams, but as the amount of data available increases, and the technology used to collect this data evolves, it has become essential for CPOs and their teams to find the right mix of quantitative and qualitative information to allow them to best assess the company's culture and the team's performance, and to identify actionable items that will help take the company's culture and–by extension–its growth to the next level. Finding and implementing the right culture and engagement measurement and assessment tools (and the right cadence for collecting data) is key. There are a number of tools and surveys, such as the Waterstone ENGAGE Survey, available. The challenge for CPOs is finding the one that best meets the data needs of their unique organization.

Other tools that are essential for organizations looking to leverage culture to help drive growth and performance include an investment in learning and development and a recognition of the role that soft skills play in today's workplace. Equipping their people with applicable skills through learning and development is core in culture-focused, high-performance organizations. But these organizations also encourage learning in other ways – embracing risk-taking, cultivating a culture where it's ok to make (and learn from) mistakes, and encouraging innovation. This approach requires a culture that is high in psychological safety, empathy, communication, agility, a passion for continuous learning and much more.
By taking advantage of data and learning, people and culture leaders can better anticipate challenges, mitigate risks, and customize solutions that support a people-focused approach.
Everyone Should Own Culture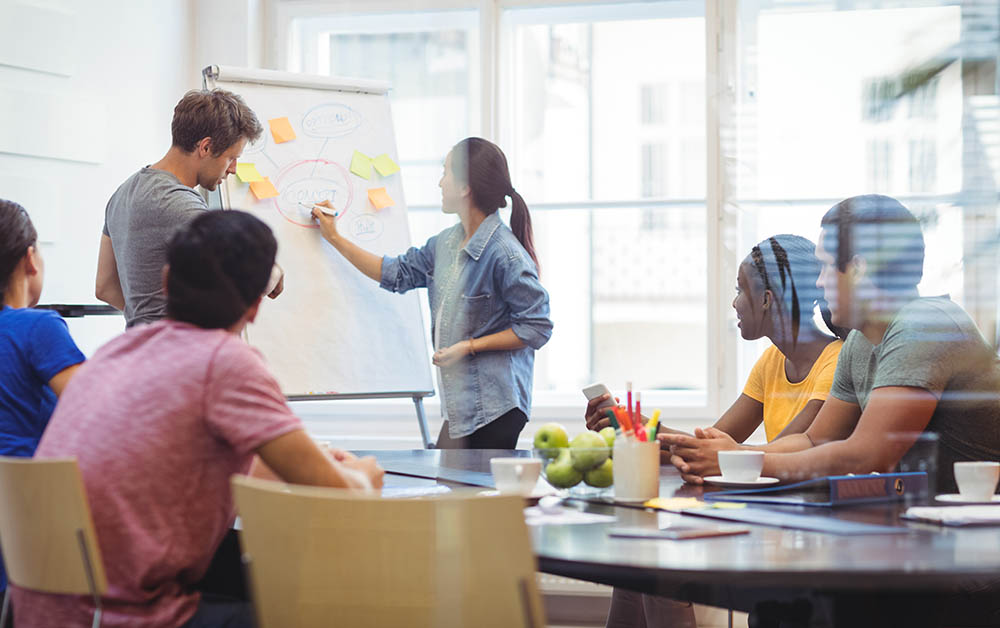 One of the most important roles of modern people and culture teams is to support an environment where the accountability of creating and maintaining a healthy and consistent culture falls to everyone. In the past, culture was often seen as something that came from the top. Today, we know that the responsibility for who an organization is and what they value cannot rest with a single person or a single team if it is to provide a true competitive advantage. To properly execute on this, a culture of openness and encouragement is needed.
Many organizations already have systems in place for employees to celebrate successes, discuss challenges and opportunities and share their feedback and suggestions. As the conversation around culture and environment continues, the people and culture team needs to be a champion for both formal and informal processes that support transparency, recognition, idea-sharing, and more.
Collective Intelligence
According to Harvard Business Review, companies and their people and culture teams benefit from tapping into collective intelligence when dealing with complex modern problems in the workplace. Collective intelligence is best described as the group intelligence that comes from a collaborative effort, whether collecting anecdotal information through an open dialogue with team members or a more data-oriented survey intake.
When done correctly, collective intelligence fosters better solutions since it relies on diverse ideas from those who work closely with and are directly impacted by the actual issues. When the entire team buys into the value of collective intelligence, problems and challenges can be solved through judgment-free listening and understanding.
Helping Organizations Build High-Performance Cultures
Waterstone Human Capital is an industry leader in helping organizations cultivate successful cultures through proven, people-focused management services. If you want to find out more about the evolving role of human resources in organizations, to schedule a company culture assessment, or discuss any other related topic, contact us to learn more.